Sky's the Limit for StrixDrones in Montgomery County, Ohio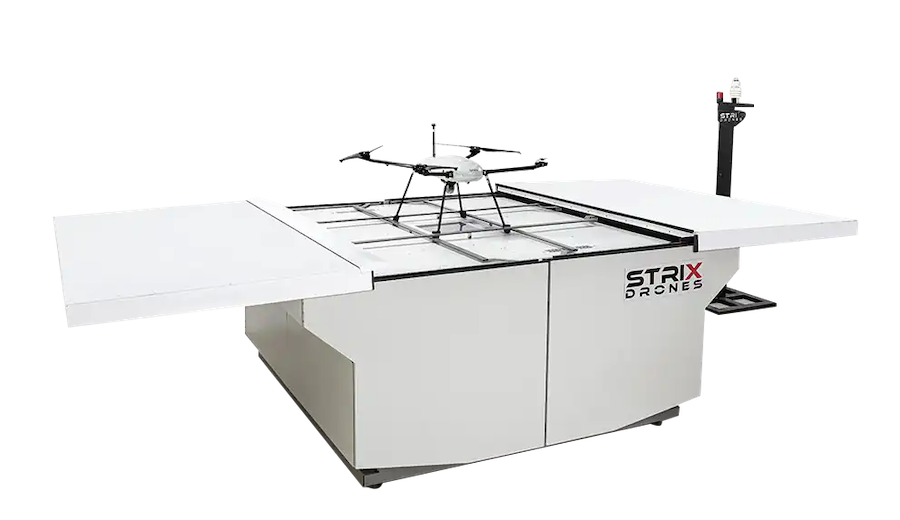 Israeli technology company StrixDrones is celebrating the production of their drone delivery and docking technology systems. Founded in 2019 and headquartered in Israel, the company's first U.S.-based manufacturing facility is located in Montgomery County, Ohio. Local suppliers such as RAM Precision Industries and NCT Technologies Group are providing the company with the materials to keep production rolling.
The company designs and manufactures three systems: DroneDock, a docking station that provides drones a safe and secure place to land, recharge, download data and more. DroneDrop is a delivery mailbox with sealed compartments that allows any size drone to deliver packages, customers receive notices via their Smartphone. DroneDwell is a customizable, climate controlled, secured storage container that can be mobile or on the ground to house and recharging multiple drones simultaneously.
Building the Only Drone-Based Healthcare-Specific Delivery Network
The drone tech company has been awarded a contract to manufacture the Series 2100 docking stations for Spright, the drone solutions division of Air Methods Corp. Spright is building a drone-based, healthcare-specific network delivery system across the United States.
Niv Aharoni, founder, and CEO of StrixDrones, explains that, unlike other docking systems, the customizable DroneDock is the only product in the market with a universal, modular-designed landing pad enabling any drone, including eVTOL, from any manufacturer to land without special adjustments.
Advanced Education Programs Drew StrixDrones to Montgomery County, Ohio
Since 2008, Sinclair Community College has been at the forefront of unmanned aerial systems (UAS) innovation, creating partnerships, developing a leading curriculum, and investing to establish a nationally prominent program to meet the workforce needs of the fast-growing UAS industry.
"I knew Dayton was the ideal location for our only U.S.-based manufacturing facility, and the cooperation we've received over the past year, especially from the Dayton Region Israel Trade Alliance (DRITA), Dayton Development Coalition, and the Entrepreneurs' Center, supports that assumption," Niv Aharoni, founder and CEO, StrixDrones, said in a statement. "Our drone airport is a game changer in the UAS industry for commercial and defense applications, and I'm beyond proud of what we've accomplished here."
Join StrixDrones In Montgomery County, Ohio
With a well-thought-out industrial supply chain, convenient proximity to airports and transmodal facilities, and a reliable workforce, Montgomery County, Ohio, continues to be the ideal place for Israeli companies to expand. Israeli companies can gain a competitive edge by collaborating with the Dayton Region Israel Trade Alliance and Montgomery County Economic Development Department.
Your business could choose to operate on the east or west coast. However, those areas will have longer wait times for approval, be riskier investments, and drastically affect your bottom line. Montgomery County offers benefits that growing businesses need for success — more speed, less risk, and, most importantly, lower costs. Contact Gwen Eberly at 937-225-4351 or eberlyg@mcohio.org to learn more about locating in Montgomery County, Ohio!