Incentives and Assistance
Opportunity Zones
About Opportunity Zones
An Opportunity Zone is a low-income community where new investments may be eligible for preferential tax treatment. Localities qualify as Opportunity Zones if they have been nominated for that designation by the state and that nomination has been certified by the Secretary of the U.S. Treasury.
The Opportunity Zone program enables investors with capital gains tax liabilities to receive favorable tax treatment for investing in Opportunity Funds certified by the U.S. Treasury. Opportunity Funds provide investors with tax deferral options and potentially permanent exclusion from the taxable income of capital gains.
Opportunity Zones Frequently Asked Questions from the IRS.
Opportunity Zones in Montgomery County
There are 18 Opportunity Zones located in Montgomery County, Ohio. 17 are located in the City of Dayton, and one is located in Harrison Township.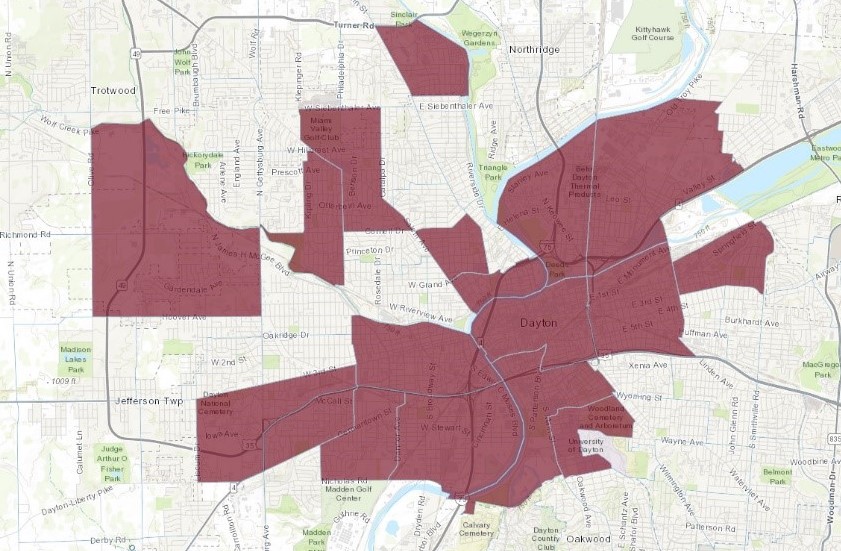 The City of Dayton has created an online prospectus to learn abou the history of the City of Dayton, and their vision for the future. You can view their extensive and interactive prospectus here. For further information on Opportunity Zones in the City of Dayton, contact Monica Jones, 937-333-3663, monica.jones@daytonohio.gov.
The Forest Park Area Opportunity Zone located in Harrison Township is a unique development opportunity. Prior to being designated an Opportunity Zone, this site had already completed a Forest Park Area Development Plan, which has already been through a public feedback process and enjoys support from local officials and residents for a mixed-use development that can include retail, commercial, light industrial, multi-family, or government uses. For more information on the Forest Park Development Site in Harrison Township, please contact Kris McClintick, 937-890-5611, kmcclintick@harrisontownship.org.
Ohio Opportunity Zone Portal
The Ohio Development Services Agency has developed the Opportunity Zone Portal where potential investors can search communities in Ohio with opportunity zones, and search listings from project owners and developers can post information about their potential development projects. That searchable database can be found here: https://opportunityzones.ohio.gov/wps/portal/gov/ooz.
Contacts
Dan Bish
Community & Economic Development Specialist
451 West 3rd Street
Dayton, OH 45422

Phone: 937-224-3850
Category: Financial, Local