Ohio EPA Office of Compliance Assistance & Pollution Prevention
401 East Fifth Street • Dayton, OH 45402
United States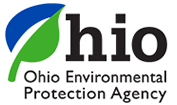 The Ohio Environmental Protection Agency is a trusted leader and environmental steward using innovation, quality service and public involvement to ensure a safe and healthy environment for all Ohioans.
Ohio EPA's goal is to protect the environment and public health by ensuring compliance with environmental laws and demonstrating leadership in environmental stewardship.
The Southwest District Offices review permit applications; investigate citizen complaints; investigate and oversee cleanups of spills and releases; monitor compliance with environmental standards; provide technical assistance to help regulated facilities understand and comply with environmental laws and permit requirements; initiate enforcement action against facilities that are not in compliance; provide environmental information and other assistance to the public; coordinate public records requests; and give public presentations.