Dayton Logistics
8 N. Main St., Suite 100 • Dayton, OH 45402
United States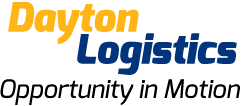 Dayton Logistics is an advocate for logistics companies and opportunities in the Dayton region. On the Dayton Logistics site you can learn more about logistics in the region, find information on open positions, major employers, and why the Dayton region is a prime location for logistics headquarters.
Dayton, Ohio is a prime opportunity for businesses looking to establish logistics hubs, add distribution centers to an existing network or establish businesses to support the increasing boom in Dayton's logistics market.
Dayton offers the unique combination of an ideal location for building optimal distribution networks, lower-than-average operating costs, available industrial real estate and an affordable workforce ready to meet any demand. Dayton's assets and accessibility have it poised to become the next big name in logistics for the Midwest Mega-Region and the nation.
Dayton Logistics Downloads