Miami Valley Regional Planning Commission (MVRPC)
10 Ludlow St. • Suite 700 • Dayton, OH 45402
United States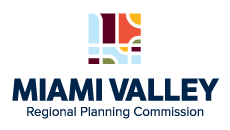 MVRPC is a forum and resource where the Board of Directors identifies priorities and develops public policy and collaborative strategies to improve quality of life throughout the Miami Valley Region.
Established in 1964, the Miami Valley Regional Planning Commission promotes collaboration among communities, stakeholders, and residents to advance regional priorities. MVRPC performs various regional planning activities, including air quality, water quality, transportation, land use, research and GIS. As the designated Metropolitan Planning Organization (MPO), MVRPC is responsible for transportation planning in Greene, Miami and Montgomery Counties and parts of northern Warren County. MVRPC's areawide water quality planning designation encompasses five (5) counties: Darke, Preble plus the three MPO counties.
Tale of the Trails
MVRPC has a phenomenal infographic expalining the regional impact of the nation's largest paved trail network. You can download the 2018 Tale of the Trails infographic on the side of this page, or view it on the MVRPC website here.
Miami Valley Regional Planning Commission (MVRPC) Downloads