BusinessFirst! For a Greater Dayton Region
451 West Third Street • 10th Floor • Dayton, OH 45422
United States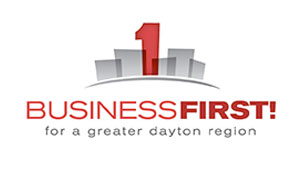 BusinessFirst! is the single-point of contact to help people and enterprises leverage resources and relationships to overcome barriers to growth, expand facilities, navigate regulatory processes, find quality employees, and facilitate mergers and acquisitions.
Created in 2001, and nationally recognized, the BusinessFirst! Program uses a customer oriented approach to economic development that connects businesses to resources in the Dayton region. Since 2001, BusinessFirst! has done over 7,000 business retention visits in order to better address the needs of the regional business community.
"Tools for Business Success" is a great resource that provides over 600 FREE resources to help businesses and entrepreneurs succeed. Tools for Business Success provides information on resources available to companies in the Greater Dayton Region, including: Funding Programs, Marketing and Selling Resources, How to Go Green, Cash Flow Calculation Tools, Business Planning and Assistance, and much more!
Visit businessfirst.toolsforbusiness.info or www.BusinessFirstDaytonRegion.com for more information!
BusinessFirst! For a Greater Dayton Region Downloads